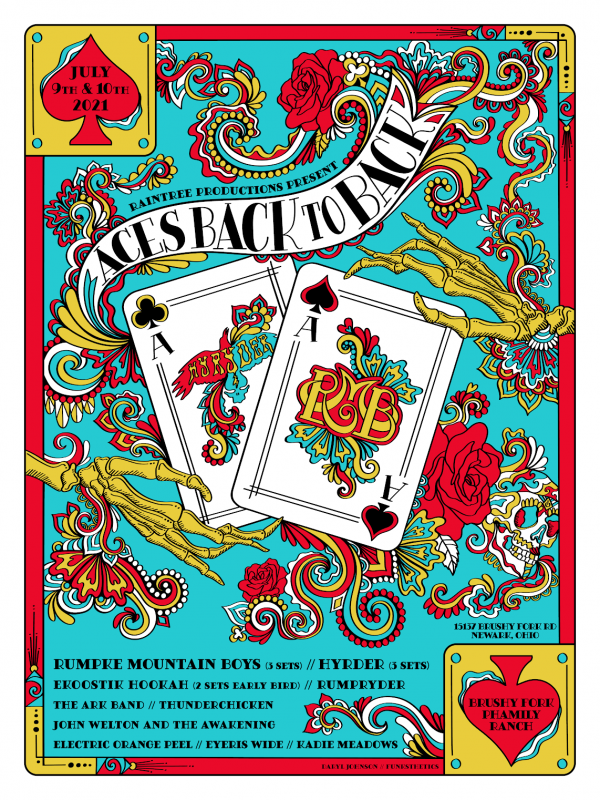 Aces Back to Back will take place on Thursday July 8th through Sunday July 11th at Brushy Fork Phamily Ranch in Newark, Ohio. This diverse festival will feature Co-headliners Rumpke Mountain Boys and Hyryder.
Rumpke Mountain Boys will perform an a high intensity, ripping final set Saturday night! All ELECTRIC with ekoostik hookah's lead guitarist Steve F@&king Sweney and saxophone bad ass and founder of Hot Brown Smackdown Myron Koch!!!
Rather than having a huge festival with small overlapping sets we are focusing on the bands we love and you are coming to see!!! Both these Aces will alternate and play back 2 back both nights, 3 total sets each and a bonus co-op Rumpryder set on Saturday. Come out Early on Thursday and enjoy a rocking evening with 2 sets of Ohio's own ekoostik hookah for their ONLY central Ohio, mid-summer show. This event will bring together the sounds of the Grateful Dead, blue grass, jam, rock, reggae and folk in a truly close knit community venue setting.